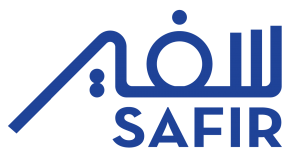 ---
We train our dedicated project participants to become successful entrepreneurs and to become one, they obviously need a strong foundation of technical knowledge. But mastering soft skills is just as important in order for them to reach their goals.
That's why JYIF held an online training session called "Skills that matter" focusing on communication, teamwork, problem-solving, and professional courage – all as part of the Safir project. 
We believe that developing and demonstrating these skills early in a career can contribute to faster professional progress. Soft skills, we find, are not only important when starting up your project, but actually throughout your career.
Skills that anyone can learn
Our dedicated trainer Aya Hrout was in charge of this Safir session's program, and the hope is that participants learn to become more confident in their communication and learn that soft skills are just as important as technical skills.
One of the main points was that self-confidence depends on several elements and is not something you are born with. Speech, tone, volume, words, body language, gestures, and distance are all areas that matter when communicating with investors, employees, and customers, as well as other stakeholders. At, JYIF we ensure to development of professional skills along with interpersonal ones. Whether it was for career goals, entrepreneurship, or improving your social life.
Now it's up to the participants to put their new skills into practice and we look forward to watching from the sidelines.
---