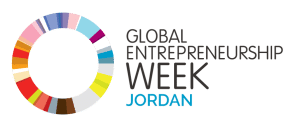 ---
In Global Entrepreneurship Week (GEW) 2023, JYIF is taking part in empowering young entrepreneurs in Jordan. Our series of activities are designed to provide valuable insights and practical knowledge to aspiring entrepreneurs and those interested in the business world!
JYIF Activities Agenda During #GEW2023
Global Entrepreneurship Week takes place worldwide from November 13 to 19, 2023. Our activities will run on 3 days, From Monday 13/11/2023 to Wednesday 15/11/2023, Learn more about our activities here!
First Day Activities Monday, November 13, 2023
On the first day, JYIF is conducting two online sessions focusing on solopreneurship and an introduction to SDGs, along with an online panel discussion on Community Impact through Youth Initiatives.
First Activity "Online Session – An Introduction to Solopreneurship"
Session Description: Join us as we dive into the world of solopreneurship – how to run a business on your own. In this session, you'll get to know what it's all about. We'll also discuss the pros and cons of being a solopreneur, so you can make informed decisions. Moreover, we'll share some useful tips to help you succeed as a solopreneur.
Time: 12:00 PM – 1:00 PM (Amman time; GMT+3)
Place: Online Session
Second Activity "Online Panel Discussion – Community Impact through Youth Initiatives"
Session Description: In this panel discussion, we aim to shed light on the vital concept of community impact. By exploring the roles of Civil Society Organizations (CSOs), particularly those led by women, in Sustainable Development Goal (SDG) initiatives, you'll gain a deeper understanding of their importance. Additionally, we'll delve into various impactful initiatives, providing you with insights and knowledge on how these organizations are making a meaningful difference in their communities.
Time: 2:30 PM – 3:30 PM (Amman time; GMT+3)
Place: Online Session
Third Activity "Online Session – Introduction to the SDGs and Social Entrepreneurship"
Session Description: In this session, we will explain the importance of Sustainable Development Goals (SDGs) in the world of entrepreneurship. You'll gain insights into how social entrepreneurship aligns with these significant goals, paving the way for a more sustainable and impactful business landscape. We'll also explore real-world examples of social entrepreneurship to provide you with practical knowledge and inspiration
Time: 4:00 PM – 5:00 PM (Amman time; GMT+3)
Place: Online Session
Second Day Activities Tuesday, November 14, 2023
The activities on the second day focus on how you can turn your ideas into startup success, Two online sessions covering Idea validation and how to choose your startup name.
First Activity "Online Session – Idea Validation"
Session Description: In this session, we'll dive into the crucial aspect of idea validation. You'll come to understand its importance. Moreover, you will be introduced to valuable techniques for validating your entrepreneurial ideas effectively. To ensure you're well-prepared for real-world scenarios, we'll also engage in practical idea validation activities. So that you'll be ready to apply what you've learned in a hands-on and practical manner, setting you on the path to successful idea validation in your entrepreneurial journey.
Time: 4:00 PM – 5:00 PM (Amman time; GMT+3)
Place: Online Session
Second Activity "Online Session – Startup Name and Branding"
Session Description: In this session, you will learn the significance of selecting a powerful name for your startup. You'll gain the knowledge needed to choose a name that's not only memorable but also effectively conveys your brand message. Additionally, you'll explore the fundamental elements of branding to create a lasting and impactful brand identity for your business.
Time: 5:30 PM – 6:30 PM (Amman time; GMT+3)
Place: Online Session
Third-Day Activities Wednesday, November 15, 2023
Third Day activities revolve around Crafting Business Plans and Perfecting Idea pitching, we will present two enriching online sessions that will cover Business Plan Essentials and the Art of Pitching Your Idea.
First Activity "Online Session – Business Plan Essentials"
Session Description: In this part of the session, you'll learn the importance of having a structured business plan. we will discover the essential components that constitute a comprehensive business plan. Moreover, you'll acquire valuable insights into the art of crafting an engaging and persuasive business plan specifically tailored for your startup.
Time: 3:00 PM – 4:30 PM (Amman time; GMT+3)
Place: Online Session
Second Activity "Online Session – How to Pitch Your Idea"
Session Description: Throughout this session, our primary aim is to empower all participants with the skills and knowledge essential for crafting a compelling and highly effective pitch for their entrepreneurial concepts. We will explore the fundamental elements that make a good pitch, encompassing its structure, content, and delivery. Additionally, practical strategies and techniques will be provided to enhance your pitching prowess.our goal is to spread inspiration and motivation among participants, enabling them to confidently and persuasively present their ideas to potential investors, partners, or stakeholders.
Time: 5:00 PM – 7:00 PM (Amman time; GMT+3)
Place: Online Session
Mark your Calendars To be part of this journey!
Our Activity Agenda for GEW features a range of topics that are essential for your entrepreneurial journey. Whether you're interested in solopreneurship, understanding the significance of SDGs in entrepreneurship, community impact, idea validation, or branding your startup, we've got you covered. Our expert-led online sessions are designed to equip you with the knowledge, skills, and inspiration you need to succeed in your entrepreneurial endeavors.
So, mark your calendars and join us for these insightful sessions during Global Entrepreneurship Week. We encourage everyone, regardless of their background or experience, to participate and take advantage of this opportunity. Let's come together to celebrate innovation, collaboration, and the entrepreneurial spirit.
Don't miss out on this fantastic opportunity to learn, connect, and grow. Register now and be a part of the JYIF's Global Entrepreneurship Week activities. We look forward to seeing you there!
---