Call for applicants to apply for the "Think Outside The Box" Training Course Program.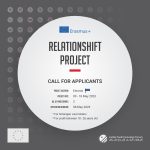 ---
What are Erasmus Plus Programs?
Erasmus Plus is a European Union (EU) program that offers students, recent graduates, and professionals the opportunity to study, train, or volunteer abroad. The program is open to individuals from EU member states, as well as a select number of partner countries, and provides funding to cover travel, living expenses, and tuition fees.
Whether you're interested in gaining work experience or simply exploring new cultures, Erasmus Plus programs offer a range of opportunities to suit your needs and interests.
Think out of the box training course: This project aims to teach youth workers how to implement experiential learning methods in their future youth work to enhance their capacities to design, develop and plan activities and equip them with tools and methods for efficient group coordination, mentoring, support, and the facilitation of their learning process.
Hosting country: Veliki Žitnik, Croatia
Training course Date: 08 May- 14 May 2023
Age: 18+
No. of Participants from Jordan: 4
Requirements:
1. High level of English (B2 recommended).
2. High experience in working with volunteers.
3. High motivation and desire to participate in the training course – with high motivation and desire to work in the youth sector.
4. Experts in the European Commission's volunteering programs.
5. JYIF Membership.
6. A valid Schengen visa is required.
How to Apply:
Contact our project coordinator by a private Whatsapp message at +962 781288814
---
By participating in an Erasmus plus exchange program, you'll gain valuable insights into different cultures and practices, make lifelong connections with people from around the world, and develop the skills and confidence needed to succeed in today's globalized world. So why not take the leap and explore all that Erasmus Plus exchange programs have to offer?